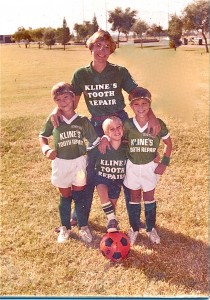 I am in the middle of getting ready for our Number One's wedding in Mexico and I can't help but remember all three of my guys when they were younger. I was telling Erik (#3) just the other day that I have decided that their childhood was one lifetime and their adult years are a completely different lifetime. I think I feel this way because my roles in both are completely different. Childhood requires working hard at keeping your children fed, clothed and safe. Along with teaching them morals, values and all-around being a good citizen. Now my job is to Shut Up. Neither jobs are easy, trust me! And I am not always successful at the shutting up part (just ask the guys!). I love seeing my guys as adults, and Nathan getting married to his Lovely Lindsey is such an exciting, fun time for us. Danny has even stopped complaining about the cost and concerns for safety! Yay.
The picture I've posted is my favorite. Look at those sweet faces. Our pride in all three of them is limitless. It was that way then, and it's that way now.
So there is one thing that doesn't feel like two lifetimes. That is the same, no matter how many lifetimes we go through with them.