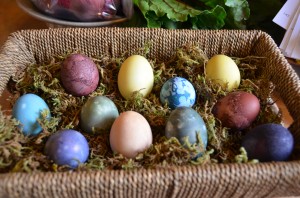 So, it's that time of year again. Does it seem sooner to any of you like it does me? That's the fun of Easter. A different time each year. I have heard it's because it's tied to Passover, but it's been ages since I've been to bible study so you'll have to forgive this 60+ brain!
I have a video and article about dying Easter eggs with natural foods and spices on this site under 'kids' and 'your life segments.' Check it out. You may be surprised how easy it is and how the results can be surprising as well as beautemous!
Another reason I like this time of year is the colors of the desert start waking up. Here's what it's like outside right now: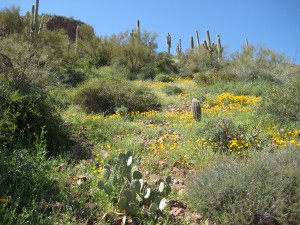 It's just the beginning. Each day the mountain turns more and more green and yellow (the yellow being the brittle bush). In about a month the palo verde and ironwood trees will add more yellow and lavender to the landscape. I know I've said Fall is my favorite time. And it truly is. It is finally a break from the 6+ months of intense heat, which always drags me down. Some of my Snow People probably know what I mean what with all the blizzards and such still active around there! Spring is their favorite time, for kinda the same reasons. I love the smell and sight of the blooming desert but there's a little part of me going into a full pout knowing the 110+ temperatures of May and June and the hot, humid monsoons are just around the corner AGAIN! But with the weather we have from mid-September until the end of April gives me a lot of reasons to be grateful. No complaints here. Well, maybe just small ones.
March brings us to that time of year where I am haunting my deck looking for the sunsets trying to figure out when they will actually occur behind the highrises of downtown Phoenix, which are about 30-40 miles from us. Well, I got it last night. Since this only happens twice a year, it's hard to be home on the exact right night. We've lived here for 12 years and I've only been able to catch it four times now. So, I am very excited I was here last night. And set the alarm for the sun setting! I call it 'Arizona Stone Henge.'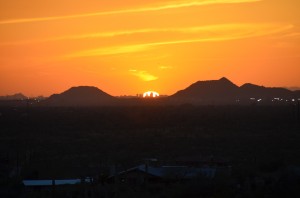 No matter the whining I do in my head (ok, ok, out loud, too!), I do love this time of year. So whether you are celebrating Easter or Passover and just enjoying our glorious days and evenings, I wish you the best of Spring!