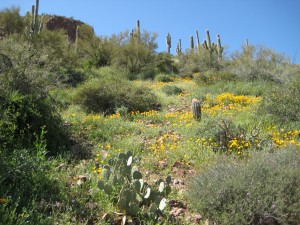 It's Spring Break in Arizona and time to get out and have some fun! And why not start in Apache Junction? Ok, I hear some of you groaning and moaning but just listen for a minute. There are so many places around here to visit and can be done in a 1/2 or even a whole day trip.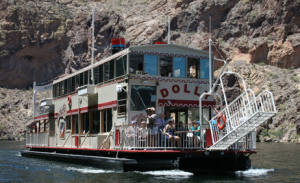 A fun one for locals and visitors alike is the Dolly Steamboat tour of Canyon Lake. They have both afternoon and dinner/sunset tours to choose from. We have gone on both and probably preferred the dinner tour most because there were more animals out and about right before and after sunset. The entertainment was pretty good and the food okay, but the experience was more than worth the price and time. Their website is www.dollysteamboat.com.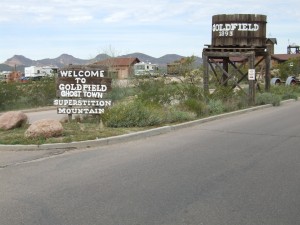 Another fun place to explore is the Gold Field Ghost Town. This is a replica of an actual gold field town where more than 10,000 miners lived in tents outside the small community. There is a train that takes you around the town, shops, museums (the bordello is an interesting tour!) and there's even a mine tour that takes you down to where the miners did their work.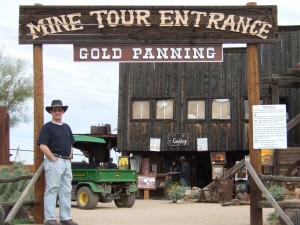 This is an especially favorite tour my Danny likes to take people on. As you can see by the sign, gold panning is another fun activity for the kids.
Their website is: www.goldfieldghosttown.com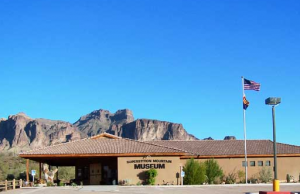 If you're interested in the local history, our Superstition Mountain Museum is the place to go. They have art fairs on a regular basis and Thursdays is a day for lectures. There is also The Little White Chapel, famous for being in an Elvis Presley movie. Sometimes when I drive past the museum on my way home, I'll see people around the chapel for a wedding. What a beautiful setting to start one's new life with a spouse! The website is: superstitionmountainmuseum.org.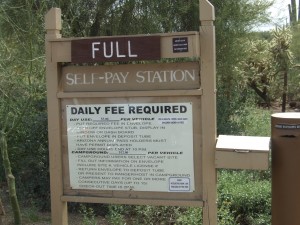 If you and your family love to hike then you need to check out the Lost Dutchman Hiking Trails. There are more than 150 hiking trails (ranging from easy to the most challenging) in the Superstition Mountains and many of them can be started here. It's a state park and has employees who are very experienced and well-educated about hiking and the surrounding area. There are maps of the hikes to take with you as well as suggestions on which trail is best for you and your family's experience. The cost is $5.00 per car so it's very reasonable. Ask about their Full Moon Hike they have every month. It's good for all ages and tons of fun. Their website is www.stateparks.com/lost_dutchman.html
Well, that should keep you busy for at least one day! I promise, if you take the time (and the gas!), you'll be very happy you did. There are those days during Spring Break where the kids are tired of the house and each other and what better way to entertain them? Bring 'em on over to Apache Junction!