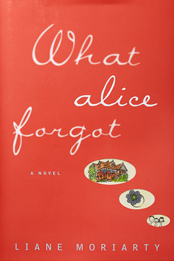 We  had a bookclub meeting last night and we had read 'What Alice Forgot' by Liane Moriarty and I have to say, we all enjoyed it quite a bit. Short synopsis: a woman gets hit in the head, comes to and thinks it's 10 years ago when she was newly married and pregnant. Now she is told she has three kids (she can't remember the birth of the first one!), she is an uber-exercise freak (she hates gyms!), she and her husband are separated (how can that be when they love each other passionately?) and can barely stand to see each other, much less communicate (they talk about everything!). WHAAAAAT? Worth looking into, for sure.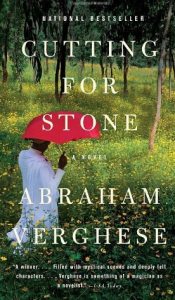 Our next read will be 'Cutting for Stone' by Abraham Verghese. I am ashamed to admit this book was recommended to me several years ago by my beloved sisters-in-law (yes, it's true, they are very beloved!) and I have never read it. I bought it. Months and months ago. But it's just one of those things I have in my life I allow to sit there and mock me and make me feel so, so lame. Just read the damn thing, Sherry! *sigh* Why do we do that to ourselves??
Sorry. I digress. I suggested the book so I would read it. I always read the book (except that one time we had 'Angle in Repose' and I think I actually tore the book up and threw it away-in the outside trash, not the inside–after only 30 pages). And since I do read them (well, most times anyway), I knew I would finally accomplish a goal and put it back on the shelf, mocking silenced.
And those of you who 'loved loved loved' 'Angle in Repose?' Well, like my Auntie Vel, you are obviously well read and are to be honored. Whereas I just consider myself a reader. And ok to be that way!